Driving the Nicaraguan riot police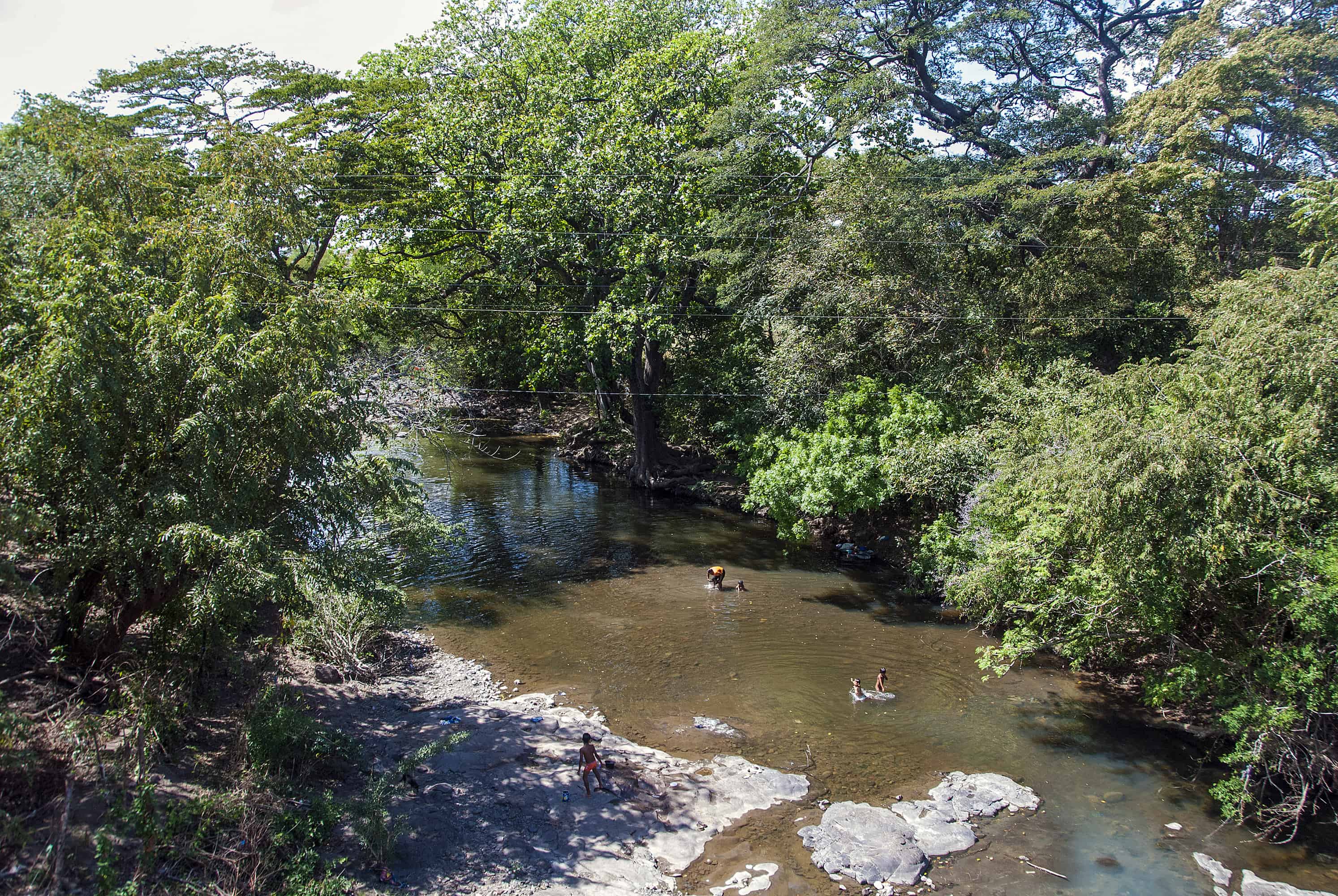 When, on Sunday, Feb. 1, two members of the Nicaraguan riot squad stopped me on the road leaving El Tule and asked where I was going, I was sure my reporting days in Nicaragua were over. The two policemen were dressed in full riot gear, AK-47 assault rifles loosely dangling from their shoulders, and looked like guys you don't want to mess with.
Three weeks earlier, I had received an email from the Belgian photographer Michèle Sennesael with a short message: "Avoid El Tule, don't go there." El Tule, a village in the department of Río San Juan, is right in the path of the planned interoceanic Grand Canal of Nicaragua. Sennesael was arrested there while photographing a demonstration against the project. She spent a night in a cell in Managua, was deported, and now still misses some €10,000 worth of equipment.
Needless to say, I went to El Tule anyway.
Although I hadn't planned to go anywhere but El Tule, I told the policemen who stopped me that I was going to La Argentina, another village about half an hour to the south along the road to San Carlos. "Good," one of them said. And then he asked politely: "Can you give us a ride there?" It felt somehow odd to refuse a lift to a pair of very heavily armed policemen, so I invited them into my rental car. The stocky one sat down beside me, and the lanky one (he looked like a young Christopher Walken) moved into the back seat, and off we went to La Argentina.
As a journalist it is the proper thing to always reveal that one works for the media. Thinking about what had happened to my Belgian colleague, I decided to omit this tradition and just engage in friendly conversation. The guy in the front seat told me the two of them were on duty in El Tule controlling the local protesters.
I asked what the protests were about. "It's about that canal," the policeman next to me said. "These people think they are going to be thrown off their land without fair compensation, but that's all a bunch of lies. They'll all get a good price for their land if they have to move at all." He continued with a very passionate statement about how the canal is going to be a blessing that will lift Nicaragua out of poverty.
President Daniel Ortega couldn't have a better spokesperson than this member of his riot police.
For three and a half weeks, I had traveled through Nicaragua. I had asked people in Managua, Granada, San Jorge, Rivas, Ometepe, Diriamba, Tipitapa, Matagalpa, Estelí, Juigalpa, San Miguelito and El Tule – and all the overcrowded buses in between those places – what they thought about the canal. Their responses were sometimes peppered with patriotic fervor, and sometimes with serious disgust.
"The canal will be the fulfillment of a centuries-old dream," said Gerardo Reyes, a coffee farmer in Matagalpa. "We will no longer have to export our coffee through harbors in Costa Rica and Honduras."
Michael, a prominent businessman from Granada who doesn't want his full name in the newspaper, couldn't disagree more. "The canal is just a political play. Since Ortega doesn't get his money from Venezuela anymore, he has to give people some new hope, so he can win next year's elections."
See also: Will the Nicaragua Canal ruin the 'Galapagos of Central America'?
One thing is clear: Opinions about the canal are strongly determined by political leanings and geography. Nicaraguans with a favorable opinion about President Ortega tend to be positive about the canal. People who oppose Ortega, on the other hand, mostly think the canal is a bad idea, or worse, a political scam. Even more remarkable: The closer people live to the planned canal, the more likely they are to hate it. The further away from the canal, the more willing they are to consider it as a project that could be good for the country.
Of course, people who are enemies of Ortega and are also in the path of the monster project hate "El Canal" the most. Humberto Manzanares is a farmer from Comunidad Polo de Desarrollo Daniel Guido, a small community near the Atlantic coast made up of former Contras, Nicaraguans who in the 1980s fought against the Sandinista government. Manzanares says: "We received our lands after the reconciliation in 1990 from Doña Violeta Chamorro and now the Sandinista government is trying to take it away from us. We will not give up our lands for anything in the world."
The "over my dead body" stand prevails in much of the future Canal Zone. This attitude, however, is not exclusively related to the canal. The 450 inhabitants of Apawás, a village that has to make way for the construction of the Tumarín hydroelectric project, also refuse to leave their houses, even though they are promised a complete new community a few kilometers down the river. It's a universal thing: Farmers – rich or poor – hate to leave the fields they have worked for many years.
The protests are loud, but according to a recent CID-Gallup poll, the majority of Nicaraguans support the idea of constructing el canal interoceánico. Forty-one percent said they were very much in favor of the canal. Another 21 percent was somewhat in favor. Only 17 percent of the respondents didn't support the project at all. However, 39 percent didn't agree with the fact that the government has given the Chinese firm HKND the concession to construct and manage the canal for a period of 50 years, with an option to extend the contract even longer.
In my encounters, even Nicaraguans with a favorable outlook on the megaproject still have reservations about the social, political and environmental implications. Nearly everyone mentions the lack of information. Where is the report about the environmental impact? Who will profit from the canal? And most of all: Who is actually paying the bill and pulling the strings? Gerardo Reyes from Matagalpa has no doubt that the enigmatic Chinese billionaire Wang Jing is nothing but a front man for the Chinese government.
The scientists who have criticized the project also struggle with a lack of openness. "We are not against a project that can develop our country," said Maura Madriz Paladino, an environmental scientist of the Humboldt Center in Managua. "The problem is that this project lacks transparency. We don't know what the plans really are, and what they will mean for our country."
HKND has promised it will publish an environmental impact assessment produced by the British firm ERM in April 2015.
Cardinal Leopoldo Brenes, probably the most influential voice in Nicaragua, also has demanded more transparency. I met the cardinal in Diriamba where he visited the festival of San Sebastián. In response to a question from a Nicaraguan reporter, the cardinal said: "If it is true that this canal will benefit us all, then we all have to be better informed."
After the riot squad broke up a roadblock by the protesters in El Tule in December 2014, the demonstrators asked the cardinal to mediate between them and President Ortega.
The distance from El Tule to La Argentina along Highway 25 is 16.9 kilometers. When we were just about done chatting, the policeman next to me got a phone call. He acknowledged the information he received and then made a phone call himself. "Keep an eye out for four vans driving from Managua to Nueva Guinea," he said. "These are the people who plan another demonstration in Nueva Guinea next week. On the ninth I believe. No, don't do anything to them. Just write down their license plates."
When we reached La Argentina, I dropped the policemen off at the exit for San Carlos. We shook hands and they continued their trip. Now that my car was no longer a mobile command post of the Nicaraguan riot police, I turned around and drove back to El Tule where there would be another demonstration that same day. On the way, I realized I probably wouldn't be welcome in El Tule at all since I undoubtedly had been spotted transporting the hated antimotines.
A project of this magnitude – the costs are estimated at least at $50 billion – will always disrupt people's lives and generate protests. Such disruption and bad feelings could be minimized by transparency and an open discussion, like the one that took place in Panama before that country decided to build a third set of locks for the Panama Canal. However, this is not the way Ortega and Chinese firm HKND have played the canal game so far.
The reason for the lack of openness? On the one hand, it's probably the way Ortega is used to doing politics. On the other, even he and his Chinese comrade Wang Jing are probably not sure how the project will proceed from here on. And that's why many Nicaraguans still feel there's something fishy about this canal.
Teake Zuidema is a Dutch journalist and photographer living in U.S. city of Pittsburgh. He specializes in science and environmental stories. See more of his work at www.teakezuidema.com.