Archbishop Óscar Romero: Another step on the path toward sainthood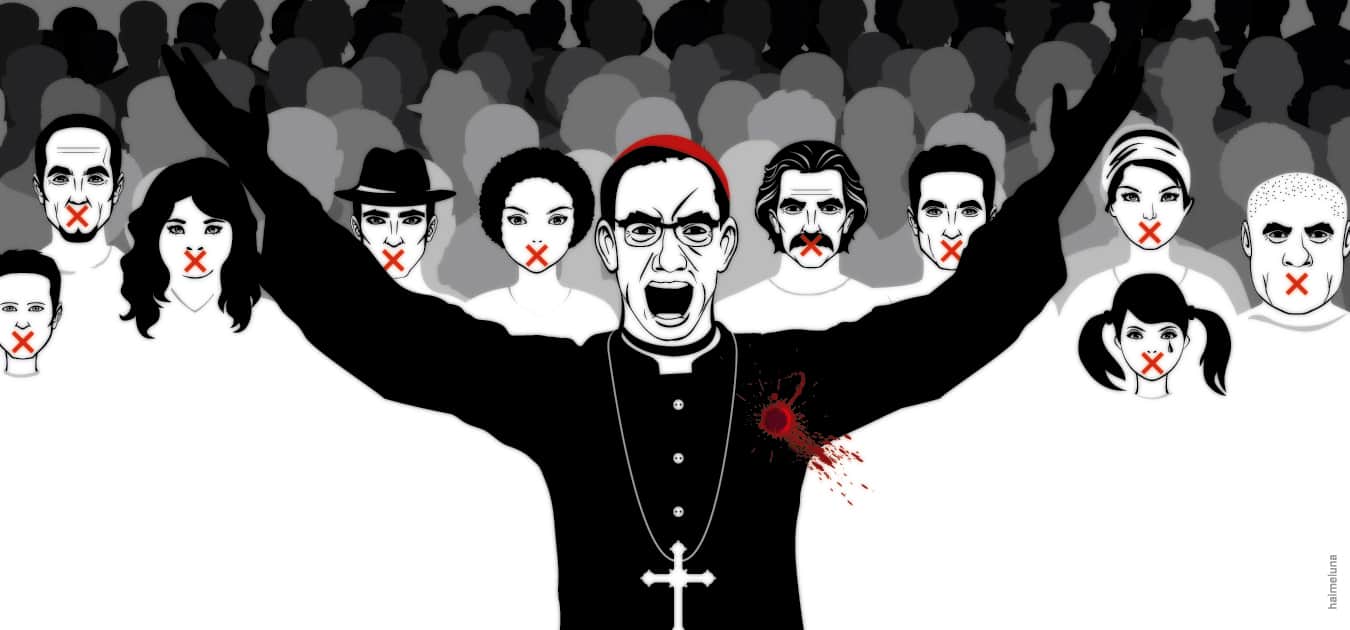 Today in San Salvador, a serious, but joyous celebration is taking place: The Catholic Church is beatifying Archbishop Óscar Arnulfo Romero y Galdámez. Beatification is the last step before sainthood, which would make Romero the first saint from El Salvador, and in fact the first born in all of Central America.
The campaign for Romero's canonization has gone on for decades, and the path to this final stage before sainthood was only achieved last January when a theological commission in the Vatican declared that Archbishop Romero was indeed a martyr because of his faith (saying he was killed in odium fidei – or "in hatred of the faith," not for his politics). In March 2013, Pope Francis, himself a Latin American, had told Archbishop Vincenzo Paglia the postulant for the cause of Romero's sainthood, that the path had been unblocked, but it was not until this most recent finding that the way was cleared for today's beatification.
Archbishop Romero came to his politics late in life. He spent most of his time in the priesthood avoiding politics, but grounded in his faith. On Feb. 23, 1977 he was appointed archbishop as a compromise candidate that El Salvador's ruling elite hoped would lead the church away from the growing trend of liberation theology. Less than three weeks after Romero's appointment, a good friend, and Jesuit priest, Father Rutilio Grande was assassinated on the road near Aguilares outside San Salvador. It changed Romero's thinking and he became actively involved in pushing for a government investigation into the murder.
Romero became a champion of El Salvador's poor, and a critic of its wealthy oligarchs. Over the next three years he delivered weekly homilies over the radio station YSUCA at the Jesuit University of Central America. His powerful words, always firmly anchored in church teachings, gave hope and faith to the long-suffering Salvadoran peasants, but angered the military and ruling junta. It apparently even caused U.S. National Security Advisor Zbigniew Brzezinski to draft a letter to Pope John Paul II asking him to try and deter Romero.
As the situation in his country grew more violent, the archbishop spoke out more forcefully, criticizing the army for abandoning its role as the nation's defender to becoming a guardian of the interests of the oligarchy. He even wrote to U.S. President Jimmy Carter, calling on the U.S. government to end military aid to El Salvador:
The contribution of your government instead of promoting greater justice and peace in El Salvador will without doubt sharpen the injustice and repression against the organizations of the people which repeatedly have been struggling to gain respect for their fundamental human rights.
The letter to President Carter was sent almost exactly one month before Archbishop Romero was killed while saying mass at a cancer hospital. The day before, in his homily broadcast throughout the country, he had called on Salvadoran troops to disobey their commanders and stop the violence against the Salvadoran people:
In the name of God, and in the name of this suffering people, whose laments rise to heaven each day more tumultuous, I beg you, I beseech you, I order you in the name of God: Stop the repression!
–
It was this speech that Father Roy Bourgeois later played from a tape recorder hidden in a tree outside the base where Salvadoran troops were receiving training in the United States. (Listen to the audio here.) As he remembered in an interview years later, "We really messed up their training big time." Bourgeois was sentenced to 18 months in prison by U.S. federal Judge Robert Elliott, the same judge who had reversed the conviction of Lt. William Calley, the only man to serve time for the killings in My Lai, Vietnam.
Father Roy later started the annual protests outside the gates of the School of the Americas training facility, now called WHINSEC, where 19 of the Salvadoran officers accused of killing six Jesuit priests in 1989 had received training.
See also: Romero: The long journey to martyrdom, a timeline
Documents gathered by the National Security Archive, an independent nongovernmental research institute and library located at George Washington University in Washington, D.C., show that the United States government had credible intelligence shortly after Romero's murder that the mastermind was Maj. Roberto D'Aubuisson, but he would never face trial and died of cancer of the esophagus in 1992. In 1984, former U.S. Ambassador to El Salvador Robert White told Congress there was "sufficient evidence" to convict D'Aubuisson of planning and ordering Archbishop Romero's assassination.
In September 1981, Roberto D'Aubuisson founded the right-wing Nationalist Republican Alliance party, or ARENA, which went on to rule the government of El Salvador from 1989 to 2009. They still hold 28 seats in the Legislative Assembly, but in March 2009, the Faribundo Martí National Liberation Front, or FMLN, candidate Mauricio Funes won the presidency. Shortly after victory was declared, Sigfrido Reyes, communications secretary for the FMLN and now a lawmaker, said in an interview, "This is a historical victory for our people in El Salvador. For many decades our people struggled for democracy, for the respect of human rights, for justice. … This is a victory that transcends an electoral event. This is a victory that vindicates the memory of our Bishop Romero. … Tomorrow will begin a new future for El Salvador. We will build a just and fair country."
–
Under Funes, the government of El Salvador began to address many of the crimes of the past. In November 2009, Funes awarded the six slain Jesuit priests of the UCA El Salvador's highest honor — the National Order of José Matías Delgado — in what he called a "public act of atonement" for mistakes by past governments. And in March 2010 – on the 30th anniversary of Romero's death – he dedicated a new mural at El Salvador's Comalapa International Airport, saying: "I ask forgiveness in the name of the Salvadoran state for this assassination, perpetrated 30 years ago; firstly from his family, secondly from the Salvadoran people, and thirdly from the Catholic Church and religious organizations."
On Dec. 21, 2010, the United Nations General Assembly named March 24 as the "International Day for the Right to the Truth concerning Gross Human Rights Violations and for the Dignity of Victims," and in March 2011, U.S. President Barack Obama visited the tomb of Archbishop Romero.
Although no one has been imprisoned for the killing, some evidence has come out in recent years. The Center for Justice and Accountability filed a suit against former Air Force Capt. Álvaro Rafael Saravia, who had been living in Modesto, California. Saravia fled the United States, but later, in 2010, confessed his role in an interview with El Salvador's El Faro newspaper. The person who actually pulled the trigger has never been caught, but recent deportations by U.S. Homeland Security of other Salvadorans known to have been involved in human rights abuses offer hope that more prosecutions may occur. A WikiLeaks cable, reprinted in El Faro, indicates that ARENA tried to block investigations when they held the presidency, but this is no longer the case. A case was filed with the Inter-American Commission on Human Rights, as well.
More than 250,000 people attended Romero's funeral on March 30, 1980, and more than 40 were killed when troops opened fire on the crowd. Commemorations have continued annually since his death, but these were of necessity more muted during the war years. Since the signing of the Peace Accords in 1992, they have become more public. Many children in El Salvador were given the name Óscar, and many of those are now fully grown. But the wait for official sainthood has been a long one. In spite of years of "blockage" by conservative forces in the Catholic Church, the Salvadoran people, and many others throughout Latin America have always seen Óscar Romero as their saint.
On the evening of March 24, 1980, speaking in San Salvador's Chapel of Divine Providence, Romero was felled by single shot from an assassin's rifle. He had been delivering mass. His sermon on sacrifice concluded with the words: "The harvest comes because of the grain that dies."
–
Norman Stockwell is a freelance journalist based in Madison, Wisconsin, and serves as operations coordinator of WORT-FM. He has reported from throughout Latin America over the past three decades.