Jacó Happenings
Katja Bader from the Mckee Foundation has announced that on May 23, the  Golden Paw Award  was presented to Catalina Valverde, a young wife and mother who lives with her family in Atenas, but spends at least half of her time here in Garabito county, visiting other family and taking care of the canine and feline population in this area. Katja first met Catalina in May of 2011, when she contacted McKee about organizing the first clinic spay day in Quebrada Ganado. 

While the surgical teams of students and vets from UNA were implementing the procedures, Catalina's husband Dr. Victor Montenegro – a vet and docent at UNA – offered free consultations for animals with health problems, and most of the patients received not only a complete check up, but also a free blood workup. The day ended up with 30 spayed/neutered animals, as well as many others attended by Dr. Montenegro. Since then, Catalina stays in contact with the McKee Foundation rescuing animals in the Central Pacific zone. 
Many rescued animals are attended to and treated by Victor. They all stay at house of Catalina and Victor until they are healthy, spayed/neutered and ready for their new homes. All this is possible thanks to the incredible involvement of the entire Montenegro-Valverde family, as all three children are also involved in this project. They all pitch in and help take care of the animals, not only seeing to their respective treatments but also giving them love and attention, which as we all know is often a key element in the recovery process, especially in the case of abused animals. 
 Their house has become a shelter for all kinds of abused, neglected and injured creatures; besides dogs and cats, you'll also find two goats and one pig, all saved from the butcher, a rabbit that was injured by a dog and even an old quail. And there are also sloths, macaws and parrots staying there as short-term tenants who are taken to the wildlife rescue centers after receiving first-aid treatment.  
McKee Foundation gives a huge thank you to Catalina and her family, for being such important and active contributors to animal welfare in Costa Rica and awards them the Golden Paw Award.  If you would like to volunteer or help the McKee Foundation, please visit www.mckee-jaco.com.
This weekend in Jacó, May 31-June 2, Las Heridas del Viento is being featured at Teatro Jacó. The play was written by the Spaniard Juan Carlos Rubio, and will be performed by the actors Arturo Campos and Leonardo Perucci, ld by Mariano Gonzaléz. Showtime is 8 p.m. Admission is $20 VIP and $10 general. For reservations, call 2630-9812
Out in Playa Hermosa this weekend, June 1-2, the Fiesta Hawaiiana will feature the Surf Tournament commemorating the life of Frank Mora. The event is being held in front of Cabinas Las Arenas and is organized by ACOS (Asociacion Costarricense de Surf) in memory of Frank Mora (1950 – 2009). It will include $2,000 in prizes.  Stop in Hermosa and check out all some of the best surfers in the Central Pacific zone. For more information, visit acossurfingcr.com
-Christina Truitt
christina_truitt@yahoo.com
You may be interested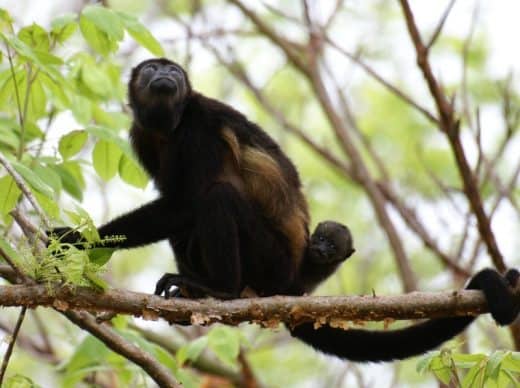 Photos & Video
5863 views
Whatcha lookin' at up there?
The Tico Times
-
October 21, 2017
Reader John Honeyman shared this image of a howler monkey in Santa Teresa, on the Nicoya Peninsula. Thanks, John! Would…