SOS School Prepares for Transformation
(Part two in a three-part series on the United World College.)IN his introduction to the State of the World's Children address in 1998, United Nations Secretary General Kofi Annan said much of the new millennium "can be seen in how we care for our children today."To look into some aspects of the future, we do not need projections by supercomputers. Tomorrow's world may be influenced by science and technology, but more than anything, it is already taking shape in the bodies and minds of our children," he said.If Annan is correct – and if the ambitious educational project under way, and ready to expand, in the western suburb of Santa Ana is any indication of the region's potential – a shiny future is in store for Latin America.THE SOS Hermann Gmeiner International College was founded five years ago to give talented Latin American youth from disadvantaged backgrounds access to the educational opportunities they deserve. Now, the private Santa Ana high school is scheduled to become a United World College (UWC) in August 2006 – a project that will involve structural changes to the school, including curricular adjustments and an influx of new students from around the world, as well as fundraising for scholarship money (TT, Sept. 30).However, in the transition, the school will not sacrifice its mission of social aid. Rather than replacing one institution with another, the transition is expected to merge two distinct international schools with shared roots but unique goals. Both grew out of the needs of post-World War II Europe, but SOS Children's Villages International seeks to find homes and provide education to orphans and students from low-income homes, while UWC focuses on bringing talented students from different countries together to promote peaceful conflict resolution.This blend of the two organizations' goals will make the Costa Rican United World College one-of-a-kind, planners say.One of the singular aspects of the school is that it will "shelter among its students people with economic difficulties," former President Rodrigo Carazo (1978-1982) told The Tico Times.Carazo, chair of the SOS school's board of directors, is in Singapore, where he will attend the 14th UWC International Council held at the United World College of South East Asia from Oct. 6-8. The ex-President will take this opportunity to present the planned Costa Rican UWC's singular mission to UWC members from around the world, he explained before leaving.UWC Costa Rica will be the only United World College directly influenced by the social aid principles governing the Santa Ana SOS school, according to Jan Kozak, the school's development director.SOS Children's Village International is a global network of institutions that include not only schools, but also medical and social centers and emergency relief programs, with approximately 2,000 facilities in 132 countries.The nonprofit organization finds stable, permanent homes for orphaned and abandoned children, an effort that started in 1949, when Austrian Hermann Gmeiner founded the Children's Villages for thousands of children left homeless and orphaned after the war.Most students at the Santa Ana school, which covers grades nine through 12, were selected from approximately 100 SOS Villages in Latin America, according to Kozak. The student body represents 14 countries throughout the region. The school, with a residence complex for its boarding students – the majority of the student population – was founded in 2000 with a $10 million donation from the Per Grieg Foundation, a Norwegian charity whose main aim is to support SOS Villages."THIS is a very particular school, created to educate the most talented students from each Village," said school director Mauricio Viales, explaining not all chosen students have accepted the opportunity to study in Costa Rica because some prefer to stay in their own countries with their SOS surrogate families.SOS Children's Villages hire local SOS "Moms" to raise a maximum of eight children in their homes, where they are integrated into family life and attend schools in the area."(SOS) Moms receive a salary. They undergo a detailed selection process and two years of training before they are hired," said Viales, adding that SOS Villages has legal guardianship of each child.The organization adopts the children from an SOS transitory home for abandoned children. Children at risk of abuse may also stay at these homes for up to eight months while their families are investigated and until they are declared fit for adoption, Viales said.Two SOS Villages exist in Costa Rica, one in the Caribbean province of Limón and one in Tres Ríos, east of San José. The Costa Rican transitory home, Casa Hogar Santa Ana, is located in the suburb of the same name.ALTHOUGH the SOS school's transition to a United World College next year will involve adaptations in curriculum and admissions, it will continue accepting low-income students after it becomes a United World College, in addition to approximately 70 new students from 40 countries. According to Viales, as a United World College, 60% of the school population will continue to come from disadvantaged socioeconomic sectors. SOS school director of development Jan Kozak said each of the 10 United World Colleges around the world has a particular focus, such as the environment or conflict resolution."This school will focus on… promoting social respect among people," he said, explaining that in this way, the UWC will embrace the SOS mission."It will be an advantage for students from the villages to interact with students from other geographic areas and economic levels," Viales added.CURRENT SOS school students echo his enthusiasm about the transition. Claudia Villareal, 17, said becoming a United World College will be "perfect." "We will be the same Latin Americans who are here now, but with more or less 70 new students. That will add much more cultural diversity than we have now," said Villareal, who is in the eleventh grade and earned the opportunity to study at the SOS school because she was a top student at an SOS Village in her native Panama.Mariana Jiménez, one of the 16 Costa Rican students at the school, said the transition will be interesting and educationally advantageous."We will be able to interact with people from other continents and practice our English. It's going to be an extremely enriching experience," said Jiménez, 18, a senior who commutes to school and lives with her parents in Santa Ana.TO make donations for scholarship assistance for UWC Costa Rica students or for more information on the school, call SOS International College at 282-5609.Next: The school launches fundraising efforts for the challenges ahead.

You may be interested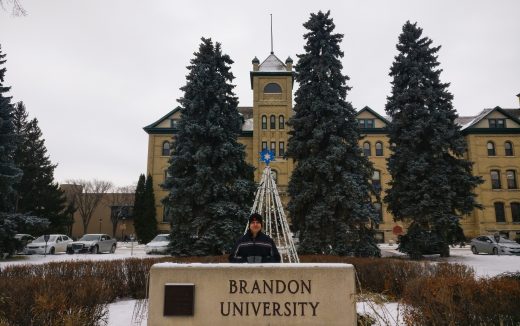 Please Send Coffee!
422 views