English-language Churches Serve Diverse Community
"How can we sing the songs of the Lordwhile in a foreign land?"–Psalm 137: Holy Bible,New International VersionTHE service is comfortingly familiar:hymns and choruses, shared prayer concernsand a sermon developing a themefrom scripture. What is remarkable is thatthe service is in English, though the churchis far from English – or North American –shores.Stretching from Islamabad to Istanbul,Ecuador to Estonia, nearly 1,000 overseasEnglish-language churches serve expatriatesfrom the United States, Canada,England and other English-speakingcountries.Costa Rica is no exception. Here, morethan half a dozen expatriate churches servethe English-speaking community, from thenortheastern suburb of Moravia to thewestern suburb of Escazú, and up thePacific coast to Flamingo.Ranging from charismatic to liberal,contemporary to traditional, these churchesprovide a home away from home for diplomats,missionaries, soldiers, students, businessmen,travelers and others livingabroad."HAVING an English-languagechurch here in San José means I can worshipin my own language," explained RonTucker, a member of International BaptistChurch in Escazú. "I can handle a Spanish-languagechurch, but I prefer one inEnglish."Shanda Oakley, a member of EscazúChristian Fellowship, a multi-denominationalcongregation that meets in theInternational Baptist Church facility, saidher church is "like my family away fromhome. It's where I can worship and servewith other expatriates – people who arelike me."Oakley has attended similar congregationsin Honduras and Zambia and, alongwith her husband Mark, started a smallEnglish-language fellowship in theirhome in Panama, where there were nosuch congregations.ONE feature that distinguishes internationalEnglish-language congregationsaround the world is that they are transitionalin nature, according to Rev. PaulDreessen, pastor of San José's InternationalBaptist Church. Frequentturnover in diplomatic and business personnelmeans such churches constantlylose members and must actively recruitnew ones."There is also great diversity in aninternational congregation," Dreessen said,referring to the multicultural, multidenominationalnature of many overseaschurches. Even in a Baptist church, hesaid, he finds greater political and spiritualor theological diversity than he would in aBaptist church in the United States."Beach Community Church (nearFlamingo) is made up of expatriates fromall over the world," said Mark Warrington,the church's pastor for the past two years."About half the people live here and halfare seasonal. We also bring in people fromarea hotels. I would say the people who arelocal are fewer than half. Thirty percent areretirees, 30% are people of means who areworking here part time, and 30% are peoplewho are trying to make a living here."DESPITE the diversity, most pastorssay they preach the same message theywould back home."Spiritual needs and problems are basicallythe same the world around. The Wordof God is applicable to all people and situations,and most, if not all, our activities as achurch are geared to help people draw closerto God," said Richard G. Boss, a retiredmissionary and pastor who served English languagecongregations in Panama,Mexico, Colombia and Switzerland."We provide a healthy environment –besides the bar – for Gringos to meet otherpeople, so we meet a social need in thisarea," Warrington said. "Although we aredistinctly Christian, we have people fromall different denominations and backgrounds.""OUR church is small and intimate,"explained Lisle Beckles, a member of theSan Pedro Christian Fellowship in easternSan José. "However, because of our size,we have trouble finding a full-time pastor.We can't afford to bring a man with a largefamily here."Beckles said his church has beensearching for a permanent pastor for morethan a year. Some international churchesobtain pastoral services from a local missionaryor pastor, while others recruit pastoralleadership from other English-speakingcountries, such as the United States,Canada, England, South Africa orAustralia.Despite its small size, Beckles said hiscongregation is active in supporting localyouth ministries and other mission projectsin the area.TYPICALLY, overseas interdenominationalchurches have to struggle withdifferent practices."We need to find a way to accommodatethe varying worship styles and theologicalstances of a variety of denominations,"said Charis Geisinger, a formermember of Escazú Christian Fellowship,who attended international churches inThailand, Venezuela and Russia during herhusband's long diplomatic career. "Therehave been discussions from how often toserve Communion and what to call it whenwe serve it (Communion or the Lord'sSupper) to whether women can be allowedto bring a sermon and fill leadership roles."MORAVIA'S Union Church beganworshiping several decades ago in theMethodist Church on Avenida Central.Today, the congregation uses a modernfacility in the northeastern San José suburb,and attracts more than just an expatriatecrowd."Our service is in English andSpanish," explained church memberElizabeth Reid. "The pastor preachesin English, but then it is translated into Spanish."That way, the church can minister in aspecial way to couples where one spousespeaks English and the other Spanish.GEISINGER reflected that overseaschurches spend less time in meetings andinvolve members who are "committedand mature Christians." She said theirinterdenominational nature leads to moreopenness and discussion, and a less dogmaticapproach."Our overseas churches have beenmuch less structured and formal, meetingin rented facilities, having to set up forevery service and tear down afterward."This lack of a physical facility has "servedto emphasize that the church is not a building,but the people in it," she said.The presence of an English-languagecongregation in a foreign setting can havea significant influence on decisions aboutrelocation."Schools for my children and a churchwere the first things I looked into," Oakleysaid, referring to her family's upcomingmove to Africa."I'm not planning on leaving CostaRica," Tucker announced. "If I did, Iwould probably move to Panama, but Iwould want to make sure there was anEnglish-language church there."Whatever their nature, internationaloverseas churches provide a needed ministryto those living abroad."We have actually been more involvedin our overseas churches than we were athome," Geisinger noted. "These churcheshave been absolutely essential to our spiritualwell-being. The fellowship is invaluable– always important in helping us keepour balance in a foreign setting."For a list of English-language churchesand religious services, see the Calendar,page W-15.

You may be interested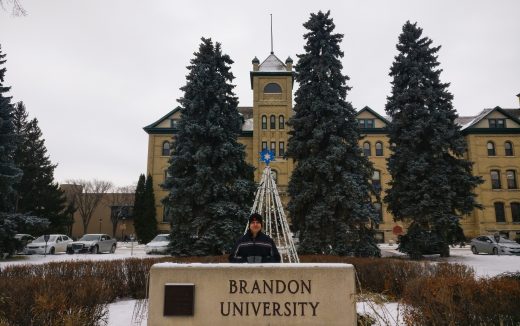 Please Send Coffee!
420 views