Peace Radio Hopes to Return to Shortwave
NEARLY one year ago, the unlikelybattle of Radio for Peace International(RFPI) with the University for Peace culminatedwith the station's expulsion fromthe school's campus, 25 kilometers west ofSan José, leaving dead air after 16 years ofbroadcasting.But as that anniversary approaches, thestation – dedicated to creating dialogueand solutions through international programming– is hardly looking back.Instead, RFPI is celebrating a $250,000donation it was pledged this month to getback on the radio airwaves.The station has been broadcasting onthe Internet since February from its newhome in Barrio Escalante, in east San José(TT, Feb. 27), but has yet to return to theshortwave transmitting that brought itsmessage of peace to even the most remotecorners of the world, according to cofounderJames Latham.Latham believes the return to shortwavewill happen within one year."WE need to reintroduce our listenersto the programs they are missing rightnow, and have been missing," Lathamrecently told The Tico Times.These programs, produced internationally,include Democracy Now, lectures byNoam Chomsky, and Free Speech RadioNews, featuring newscasts in English onsocial justice, globalization and the war inIraq."These all include some positivethinking, where we open up for discussion,debate. The goal is to present bothsides of the issues and let the people reallyhear these issues," Latham said.While the conventional technology ofshortwave radio is the greater goal, RFPIhopes to also facilitate discussion anddebate by improving its Web site,www.rfpi.org.In the short term, RFPI plans to createan online chat room and make their Internetbroadcasting available through a variety ofmedia formats. It is currently available onlythrough Mp3 technology. The station alsohopes to increase programming in Spanishonce they are back on shortwave.THESE improvements will come inpart due to a donation from PacificaRadio – a U.S.-based consortium of stationsthat defines itself as free-speech,listener-sponsored, community radio(www.pacifica. org).RFPI will work with Pacifica Radioprogramming, however it will remain itsown entity.Where that entity will be basedremains up in the air, however. Despitecalling Costa Rica home since the stationwas founded in 1987, managers are consideringa move to the United States,Latham said.FOLLOWING its eviction lastNovember from the UPEACE campus, thestation's staff has dropped from 12 to fourand its one-room home in Barrio Escalanteis a far cry from the $725,000 facility thestation had built on the UPEACE campus.The building was left behind in a landdispute based on UPEACE claims thatRFPI was operating without a legal contractand had not paid outstanding debts tothe university (TT, Nov. 14, 2003).RFPI refuted the claims, citing a 1990agreement with UPEACE to build thebuilding and antenna system. Latham estimatesthat in the end RFPI lost $200,000,but has no immediate plans to try to recoverthe money."We are focusing on rebuilding the stationright now and looking ahead," he said.

You may be interested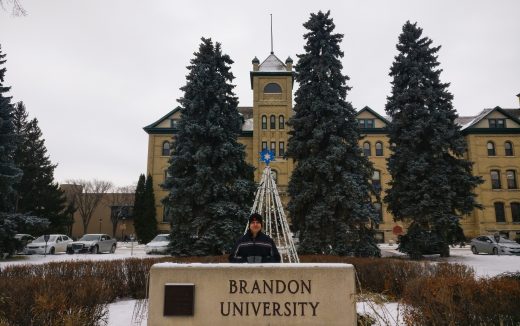 Please Send Coffee!
894 views