Villa Corcovado: Sweet Luxury on Osa's Gulf
RINCÓN, Osa Peninsula – Rare arethose who drive down a scenic road withincredible views and lush forests withoutat least once daydreaming about runningaway from it all and building a house inthe woods.Even more rare are those who actuallydo it. For the majority, there is VillaCorcovado, a new hotel on the OsaPeninsula.Located in one of the most biologicallydiverse areas on earth on the shores ofthe Golfo Dulce on the Southern Pacificcoast, the hotel has the seclusion and personaltouch of a house built by grandpa inthe middle of nowhere, where man hasfound a niche in nature's delicate balance.But Villa Corcovado is hardly a crudelog cabin. Instead, the villas offer luxuriousaccommodations, particularly welcomeafter long days exploring the nearbywonder of Corcovado National Parkand playing in the gulf's waters.Spread over a hill that descends intothe gulf and separated by fragrant ylangylang trees, the eight private villas imparta sense of absolute isolation. Each villa isunique in décor – a taste of teak here, atouch of bamboo there – but alike inclass, with beautifully finished hardwoodfloors and vaulted ceilings.THE villas are the product ofArgentinean owner Leandro Tiribelli'sdaydreams. The son of a carpenter family,Tiribelli, has given the boutique hotela personal touch and a familial atmosphere.Although the high rates prohibit VillaCorcovado from being available to manytravelers, it lacks an obnoxious sense ofelite exclusiveness."This is a place built by friends andfamily. We have built our own personalityhere," said co-owner LilianaGuiscardo, who with her brother joinedtheir longtime family friend Tiribelli inthe project.Those involved in the hotel who werenot friends before – from cooks to gardenersto the first guests – have beenquickly incorporated into the family."It has really been a mixing of wills,we have been putting together a lot ofinterests, not just ours alone, includingthose from the area," Guiscardo said.Like at grandpa's house, the chickenserved out of the hotel's gourmet kitchencomes from the next door neighbor, whois also the gardener. Pork, eggs and milkalso come from nearby families andmany of the fruits and vegetables used inthe excellent dishes are grown on theproperty itself."Our Argentinean chef is having agreat time incorporating local fruits intohis dishes. He is teaching two Ticos howto cook, Argentinean-style, and they areteaching him how to cook Tico-style,"Tiribelli said.The chef has also added a deliciouslayer of indulgence to one of the hotel'smost unique tours. Guests can visit anearby farm where organic cocoa is produced.After learning how the cacao plantis grown and processed into pure chocolate,visitors are invited to a menu ofchocolate-based dishes, including anauthentic Mayan chicken mole.They then have the option of usingcocoa to pamper all of the senses, in abeachside, chocolate massage.NOT all of Villa Corcovado's activitiesare so decadent.One- to three-hour guided hikes onthe hotel's 70-acre property offer aglimpse into the whos, hows and whys oftropical diversity. Resident macaws,monkeys, toucans, frogs and hawks, aswell as more elusive sloths, anteaters andocelots, provide subjects for such lessons.Because the hotel is located in the GolfoDulce Forest Reserve, betweenCorcovado National Park and LasEsquinas and Piedras Blancas nationalparks, it is along an important biologicalcorridor and migratory path.In addition to tours on its own property,Villa Corcovado offers day tripsthrough the Neotropical Foundation's property to Corcovado National Park, often touted as one ofthe most biodiverse areas on earth.Among thousands of other species, the more than 54,000hectares (133,439 acres) of lush, mountainous, tropical forestsof Corcovado are also one of the last strongholds of the mightyjaguar.Matching the biodiversity on land, Villa Corcovado is alsobordered by the aquatic diversity of the Golfo Dulce.Plate tectonics have made the Golfo Dulce the tenth deepestgulf in the world and one of four tropical fjords (a narrowarm of the sea between high cliffs) on the planet. This has createda body of water where open-ocean fish like tuna, doradoand swordfish can be found near 5,600-year-old coral reefsthat attract myriad other species.Sportfishing tours can therefore be enjoyed in the morning,and snorkeling in the afternoon.The gulf's depths of up to 200 meters also make the watersa passing ground for whales, when teaching their young tohunt. Whale-watching tours also allow guests to swim withhundreds of resident bottle-nosed and spotted dolphins.THE villas themselves create a continuum, rather than abarrier, with this surrounding nature. Screened windowsabound and French doors open onto large porches, where junglesounds and views can be enjoyed.Even the bathrooms invite nature's participation – wherethe tiles end, the jungle life begins. Foliage is planted aroundthe showers, followed by bamboo and screen walls that, combinedwith the howling monkeys outside, recall a refined-versionof a jungle camp.Villa Corcovado is perfect for nature-loving honeymooners,traveling couples or families with older children. Pricesinclude three meals a day and start at $168/person for a doubleand decrease with more people.GETTING THERE AND AWAY: Villa Corcovado isabout an hour north of Puerto Jiménez, a 45-minute flight fromSan José. Guests can travel by boat or by land from PuertoJiménez to the hotel. The hotel is about 5-6 hours from SanJosé by ground transportation.For more info, call 817-6969 or visit www.villacorvovado.com.
Facebook Comments
You may be interested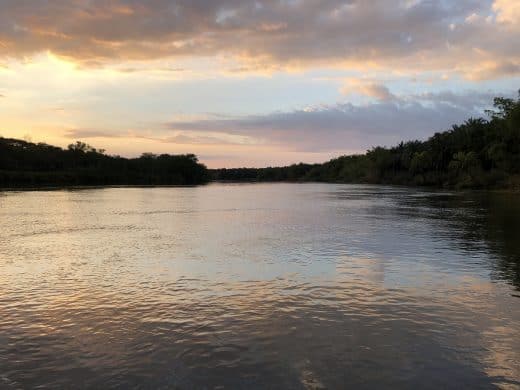 Tico Times Deep Dive
230 views
Tico Times Deep Dive
230 views
Our Southern Zone Deep Dive is underway!
Katherine Stanley
-
March 26, 2019
Our editorial team is making its first trip of the year – what we hope will be the first of many –…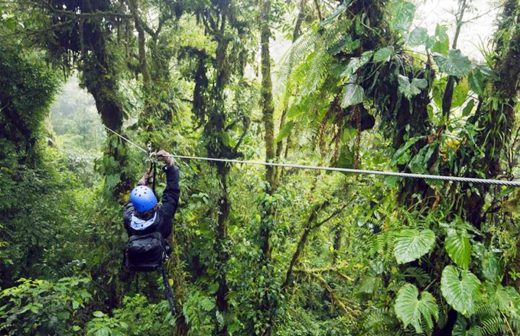 Travel & Tourism
408 views